Make paper snowflakes. Have the children fold up white sheets of paper. Then have them cut small pieces out all along the edges. Unfold . hang up in windows.

Make snow pictures using cotton balls, glue, glitter, and crayons. Children can color any scene they want, then glue down cotton balls to make the snow. They can glue glitter onto the cotton balls to make the snow sparkle.

Children can make pictures of snow using white shoe polish with the sponge tip applicators on dark blue or black paper. Make sure the room is well ventilated.

Children can pretend shaving cream is snow. Have the children "fingerpaint" on the table with shaving cream. It actually helps clean the table. Wipe clean with a slightly damp sponge when they're finished.

Have the children make a paper chain loop to decorate the tree.

Pop popcorn and have the older children string it with needle and thread to put on the tree. Cranberries are great for stringing too.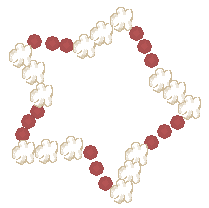 Find a large log to be your Yule Log. Carve things on it, and bring inside and burn in the fireplace.

Go on a gingerbread cookie hunt. Make or purchase enough gingerbread cookies for each child. Put them in a cookie tin or box. Hide them. Then cut out paper gingerbread children. Write a clue from one place to another making a gingerbread hunt. The final one should tell where the cookies are hidden. An example for a clue is, "Look somewhere that keeps our food cold." That would be the refrigerator. They would go to the refigerator and find another paper gingerbread child with another clue, and so on, and so on.
Back to top of page

Have children glue honey comb cereal in any design they want. Then they can paint them white to make them look like snowflakes. They can even glue them together in a design to make one large snowflake.

Have your child draw a snowman on a heavy piece of paper. Have them paint glue on the snowman. Then they can sprinkle coconut over the glue. Shake off excess coconut.

Make tissue paper wreaths. Take a paper plate and cut out the middle. Give your child small squares of green tissue paper. Then have them ball up the tissue paper and glue it onto the plate. Then they can decorate it with other colors of tissue paper and a big bow.

Make Ivory Soap Flakes pictures. Mix 1 cup of Ivory Snow Powder (in the laundry section,) with 1/2 cup warm water. Have the child use a craft stick to "paint" it on paper to look like snow.

Make a reindeer hat. First make a construction paper band to fit around the child's head. Staple it together. Then trace the childs hands on brown construction paper. Cut out the hands, and staple to the head band as antlers.

Make apple candle holders. Core apples. Carve whatever symbols or designs you want. Dip in lemon juice. Put in candle. These will only last a day. You may also add some cloves if you wish.

Yule Riddles:
1. My coat is wax. My cap is a flame. I wonder, can you guess my name?
2. I have pointed leaves and many a berry to deck the halls and make them merry.
3. I'm long and sharp and cold...that's me! I hang from every roof and tree.
4. My berries are white and my leaves are dark green. A kiss you'll receive if beneath me you're seen.
(answers to the riddles are 1. candle, 2. holly, 3. icicle, 4. mistletoe.)



Give your child a circle cut out of a piece of yellow construction paper. Let them cut into it making a fringe all around the edges to make a sun.

"Reindeer Food"
Make chex mix with chex cereals, pretzels, peanuts, raisins, and oat cereal. Then put in a brown lunch bag decorated to look like a reindeer. Glue on a red circle or pom pom for the nose, googly eyes or construction paper eyes, and brown construction paper antlers on the top of the bag. Staple it shut. Alternatively, you can put a baggie of bird seed in the reindeer bag and call it reindeer food.
Back to top of page

Winter Solstice Lemon Shortbread
1 cup butter, softened, not melted.
2 Tablespoons lemon juice
1/2 cup and 2 Tablespoons sugar
2 cups flour (unbleached is best)
1 Tablespoon sugar
Beat together butter and lemon juice in a mixing bowl. Slowly add the sugar and the flour, beating continuously until smooth. Put into a 10 inch buttered pan. Press down with your fingers. Bake in 350 degree oven for 20 to 25 minutes (edges will be slightly brown.) Cool on a wire rack. Sprinkle with the Tablespoon of sugar and cut into wedges or squares.

Children can write and act out a play of a battle between the Oak King and the Holly King and the triumph of the Oak King.They can make crowns out of construction paper with holly leaves or oak leaves. This is a good opportunity to teach the difference between evergreens and deciduous plants.

Have the children make a wreath. Trace around their hands on green construction paper. Cut several of these hands out. Glue together in a circle. add a red bow.

Make paper plate suns.Have the children paint a paper plate yellow. Have them tape strips of yellow streamers all around the edges on the back. You can have a parade around the house or yard carrying the suns.

Make a Holly picture. Have the children cut out holly leaves out of green constuction paper. Have them gluwe these down on a nice piece of white paper. Then have them make the "berries" by dipping their fingers in red paint and making fingerprints where they want the berries.

Read "The Silver Christmas Tree" by Pat Hutchins.

Read "White Snow, Blue Feather" by Julie Downing.

Yule Wreaths
3 Tablespoons butter
3 cups mini marshmallows
1/2 teaspoon vanilla
1/2 teaspoon green food coloring
4 cups crispy rice cereal
Melt butter and marshmallows over low heat, stirring. Remove from heat and add vanilla and food coloring. Stir. Fold in rice crispies. On wax paper, with buttered hands, shape into wreaths. Add red hot candies, raisins, or chocolate chips to decorate. Let cool.

Snow Caps
3 egg whites
1/4 teaspoon cream of tarter
1/8 teaspoon salt
3/4 cup sugar
Beat egg whites and cream of tarter. Slowly add the sugar while beating. Beat until shiny peaks form. Drop by teaspoon full onto a cookie sheet with a piece of brown bag cut to fit it. Bake at 275 degrees for 45 minutes. This works best on low humidity days. You can add nuts and/or chocolate chips if you wish.

Snow Balls
3/4 cup marshmallow creme
3 ounces semisweet chocolate chips
2 cups peanut butter
shredded coconut
Mix together in a bowl the marshmallow creme, the chocolate chips, and the peanut butter. Roll into balls. Then roll on a plate of coconut. Refrigerate.
Back to top of page

Magical Molasses Cookies
2/3 cup butter
1 cup sugar
1/4 cup molasses
1 egg
2 1/2 cups flour
2 teaspoons baking soda
2 teaspoons pumpkin pie spice
Mix together butter and sugar in a large bowl. Add the molasses and the egg and stir until creamy. Sift together flour, baking soda, and pumpkin pie spice in a seperate bowl. Add to molasses mixture a little at a time while stirring. Shape dough into 1 inch balls. Roll the dough balls in some sugar on a plate. Bake 2 inches apart on an ungreased cookie sheet at 350 degrees for 10 minutes. Cool 1 minute, sprinkle more sugar on top. Then cool on a wire rack. Store in an airtight container. Makes 3 doz. cookies.

Yule Log Cake
Make the chocolate cake batter of your choice. Pour into a greased and floured 15x10x1 inch jelly roll pan. Bake in a 375 degree oven for 12-15 minutes. Losen edges around cake, then carefully dump out onto a cloth lightly sprinkled with powdered sugar. Roll up cloth and cake together starting at the a short end. Cool on a wire rack, unroll, and spread frosting, jam, or jelly. Roll up. Frost with chocolate icing. Use knife to make lines to look like bark. Feel free to use a toothpick to make any Pagan designs on it that you want. Just a note about this recipe: Make sure you let it cool for a very long time. When I tried this recipe, I didn't let it cool long enough (the inside was still a bit warm,) so it broke in a few places. I didn't panic, though. I just spread the jelly, and rolled it up as best I could anyway. It worked. There was a crack in the top, so I just filled it with the chocolate icing. May not have been baker's quality, but it sure tasted great.

Wassail For Yule
1 tsp. bitters
6 cinnamon sticks
1 tsp. ground allspice
12 oz frozen apple juice
2 cups cranberry juice
1/4 cup sugar
16 whole cloves
Tie spices together in a cheesecloth bag. Combine juices, sugar, and bitters. Simmer together for ten minutes and remove spice bag. Serve hot, but not too hot for the little ones.

Anise Cookies For Yule
1 1/2 cups flour
2/3 cup sugar
2 eggs
1/2 teaspoon anise seed
Beat the eggs until lemon color. Add the sugar. Beat. Grind up the anise seed with a mortar and pestal. Sift in the flour and add the ground anise seed. Drop by spoonful or use a (cookie press) onto a cookie sheet. Referigerate overnight. Bake in a 300 degree oven for 20 to 30 minutes (until cookies are firm, but not brown.) Store in a tin for several days before serving.

Yule Song
Ring, ring, ring the bells
Ring them loud and clear
To tell the children everywhere
That Yule time's finally here.


Deck the Halls
Deck the halls with Boughs of Holly
Fa la la la la la la la la
Tis the season to be jolly
Fa la la la la la la la la
Don we now our gay apparel
Fa la la la la la la la la
Troll the ancient Yuletide carol
Fa la la la la la la la la
See the blazing Yule before us
Fa la la la la la la la la
Strike the harp and join the chorus
Fa la la la la la la la la
Follow me in merry measure
Fa la la la la la la la la
While I tell of Yuletide treasure
Fa la la la la la la la la


Willow Firesong's Pagan Yule Carol Collection Web Site
Back to top of page
Yule Tree Ornaments

Scented Ornamnents:
1 cup cinnamon,
3/4 cup applesauce,
1/4 cup white school glue
Mix ingredients together, roll out on a lightly floured surface. Cut out with cookie cutters. Punch a hole in the top of each oramnet with a drinking straw. Dry for at least 48 hours. Tie a string or a ribbon through the hole, and hang on the tree. Do not eat!

Hard Candy Ornaments:
Lay out any hard candies on a cookie sheet. Cook for 10 minutes in a 300 degree oven. Let cool for a few minutes. Before they are hard, poke a hole in the tops of each with a toothpick or pencil. After they are hard, put an ornament hanger through the hole. They will last for years.

Gingerbread Boys & Girls Ornaments:
You can use gingerbread boy and girl cookie cutters as stencils, or you can draw and cut out your own. Trace onto corigated cardboard. Cut out. Let children decorate with paint, colored glue, buttons, ribbon, markers, construction paper, etc. Poke a hole at the top and tie a ribbon through the hole.

Pine Cone Ornaments:
Have your child find beautiful pine cones. Bring them home. Paint them with glue. Sprinkle glitter on them. Let them dry. Tie a ribbon or pretty yarn to hang on the tree.

Modeling Dough Ornaments:
Mix together 2 cups of salt and 1 cup of cornstarch in a bowl. I a pot, boil 1 1/2 cups of water. Remove from heat and add the salt mixture. Stir. Then cook over low heat until it is thick. Cool. Knead. Shape into ornaments. Make a hole for the ribbon or ornament hook. Let dry. Paint.

Dried citrus Fruit Ornaments:
Find fresh citrus fruit, such as oranges, limes, lemons, or grapefruits. Slice into thin circle slices. Put them carefully on a cooling rack. Put into a 200 degree oven for several hours, turning every hour until they are dry. Open the oven door slightly and leave in the oven overnight. String with fishing line, and hang on the tree.

Cinnamon Stick Garland:
Thread some dental floss or embroider floss, or quilting thread onto a needle. String cinnamon sticks through the long hole in the middle of the stick onto the thread. You can add whatever else you want in between the cinnamon sticks (cranberries, popcorn, etc.)

Read Baby Bear's yule Tree Story